04 Jul

Digital Jukebox Touch Screen Demo

So what does the most up to date digital jukebox touch screen interface look like?

Well here it is. The fun interface makes it so simple to select songs, genres, years, styles and everything else you could ever want to find.

So let's take it from the top and go through the categories:
Years
We all want to be taken back to the good old days when "music was real". But let's be real, we also want the top 40 chart music and everything in between. You can get it all here.
Music Genre
You in the mood for something in particular? Is the random play just not hitting the spot? The Genre section let's you narrow the field from 4,500 to the songs you know will tickle your fancy!
Music Styles
Styles gives you direct access to some perfect playlists. Set the tone for your party with a quick playlist.
Karaoke Tracks
Oh yes – it wouldn't be a party without some karaoke. The jukebox has over 4,500 songs so tap into them here and get singing.
Music & Karaoke Complete Lists
Not sure what you want? Get the full lists and go random shuffle!
Song Search
Narrow the list by typing in the artist or song name.
Music Skip
There is a sneaky skip icon hidden in the bottom left just in case your friends and family get carried away with "their" favourites.
Karaoke Lyrics
It's getting a bit later and the karaoke is in full flight. The words are displayed clearing on the screen for all to sing along. Flick the "song Vocals" switch to remove the backing singer and take over if you dare.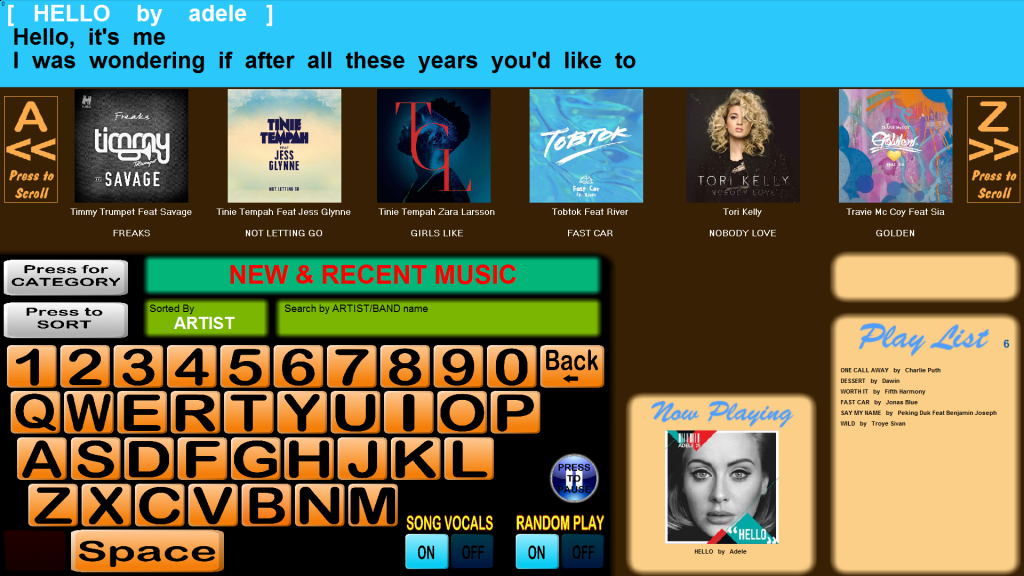 Song Queue
Now it's time to kick back, take a seat and relax. Queue up the next 10 songs so you don't have to get up again.
So that's the Jukebox – simple as that.
We know this is a game changer for your next party so check out the other jukebox features and we look forward to hearing from you soon.